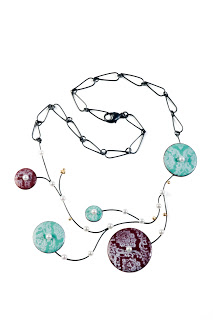 The She Said Yes Necklace was chosen to be part of a national exhibition in Toronto, at the Zilberschmuck Art Jewellery Gallery. The exhibition was entitled "Connection". Jewellery Artist's were asked to create a piece reflecting on the word "Connection".
This is my artist's statement for the She Said Yes Necklace:
"Marriage. A connection. A bond. A link for a lifetime. This piece is made up of many little pieces, silver wires, pearls, golden balls, and enameled copper circles all connected to form a whole. My inspiration for the piece came from my desire to make sure that all of my own pieces are connected before I make a connection for life to someone else. Drawing from some traditional elements of weddings like a strand of white pearls and delicately patterned wedding cakes I created a necklace that breaks from tradition. A necklace for a woman who said yes to the ultimate connection, a connection to herself. "
I think this is the perfect necklace for a bold bride!