My inspiration for creating my first Love Story Necklace came to me when I was reflecting on why love and life have never been easy for me. Didn't someone convince me when I was 6 that eventually life would be happily ever after? I decided to do some research on love, so I watched all of my favourite love stories; Before Sunrise, Before Sunset, Bed of Roses, Love Story. These were the movies that had taught me what love was and shaped my ideals of love. After spending a weekend watching these and a few other favourites, I realized that all of my favourite love stories were, like my life, complicated. They had amazing highs and devastating lows, but what survived in each of them was the ability to believe in love even when life was at its darkest.
I became inspired to create unique pieces of art that honored the curving, unique path that relationships can take us on.
About a month ago I asked brides-to-be to tell me the twists and turns of their love story in order to win a custom made Love Story Necklace to wear on their wedding day. I was amazed with how many women connected with the Love Story Necklace and shared their amazing stories with me. I thank each of you who entered, it was such a hard decision. I fell in love with every story. In the end I picked two winning stories for very different reasons. Today I will share one of the winning stories and I will share the other one tomorrow. Enjoy.
Gracie's Love Story-
I met Steven online. After going through the most traumatic experience of my life 2 years prior, I never thought I would date again, let alone get married. I had been engaged once before and the groom-to-be called it off over the phone just 3 short weeks before the day. I was completely beside myself, as was my family. I was finally able to get over the worst of it and started becoming interested in life again, and along with that came boys. I decided to sign myself up for eHarmony.com.
After a month of first dates that never went anywhere, I was matched with Steve. He was everything I had never dated before. I took a chance, honestly thinking it was probably not going to work out. He was cute, but we didn't seem to have much in common. I soon found out that didn't matter. Besides feeling like I had known him forever, we had similar up bringing and morals and that was what we would build our relationship on and soon, our future family.We moved in together 7 months later. Merging our tastes and styles together has been a difficult task but we have met each other half way. Which really means, most of Steve's hand me down/bachelor pad decor went to Goodwill and I decorated the house.
The next month Steve and I decided to invite our families and friends over to our house for Steve's Birthday. I was stressing out about how we were going to fit everyone in our place. First to arrive at the house was Steve's dad John & family friend Dave. Steve told me that he was going to take them out to where he works and show them the construction site. I felt overwhelmed with getting everything ready but Steve promised he would be back in time when everyone showed up.
Over an hour later, everyone was at our house and Steve still wasn't back yet. I introduced the family and friends who hadn't met yet and got the show on the road. Finally Steve showed up and we started to BBQ. The food was great and everyone loved our new place. It couldn't have gone any better.(Or so i thought...)During all the mingling and chatting Steve and I barley saw each other. Looking back now... I would guess he was avoiding me. He was hanging out in the garage with the guys and the keg, probably trying to calm his nerves.
I called everyone into the kitchen for cake. We all gathered around Steve and sang happy birthday. Steve blew out the candles and thanked everyone for coming. He then continued to talk about how much everyone meant to him, especially me and the time we have shared together. I thought this seemed like a strange turn of events but it never occurred to me that he was about to pop the question. I stared at my mom and then my sister from across the room, thinking to myself "Where the heck is he going with this? Is it a birthday tradition in his family to make a speech or something?" Then he said something about the last 8 months being the best of his life and then i think my knees started shaking because I realized what was going on. Meanwhile I keep staring at my mom looking for some kind of clue as to if she was thinking the same thing. I turned my focus back to Steve and he was getting down on one knee in front of all our family and friends! Then he asked me to marry him. I honestly don't remember much after this point. According to the photos though, my mouth was hanging wide open and at some point I said yes.
It couldn't have been a more perfect proposal. I always wanted a surprise and for all my family to be there with me and I got exactly that. Turns out 98% of the guests at the party knew that he was going to propose. He bought the ring earlier that week and when he was "showing his dad the job site" they were actually picking up my engagement ring!He also asked my parents for their blessing earlier that week as well, which means the world to me. I can't believe my mom was able to keep it all a secret!
Our wedding is August 28, 2010 in Auburn ,Washington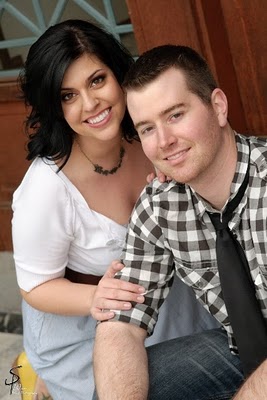 I am in the process of designing Gracie's Love Story Necklace and I'm soooo excited about it. I will be posting pictures of the design process and construction of the necklace over the next few weeks. I fell in love with Gracie's story because of her strength and resilience. I don't believe in happily ever after, I believe that life and love is about hard choices. We all get hurt, we all have our hearts broken, but with time, you choose to make your past the past and move forward. You choose to give love, you choose to embrace the incredible.
For more inspiration and the incredible, please enjoy these words by one of my favourite inspirational bloggers Danielle Laporte.