Today I want to share the second winning story from the Love Story Necklace Contest. I ended up choosing two winning stories for very different reasons. They each in their own way really embodied what the Love Story Necklace is all about.
Amanda's Love Story-
Matt and I weren't supposed to meet, fall in love, or get married. We are 95.7% opposites. We met through MySpace for crying out loud! I met Matt my junior year in college. I wasn't looking for a relationship and he was so I blew him off at first. Then when he wrote to me again asking to get ice cream, I caved and after meeting him, I was done.
We moved in together right after i graduated college and were happy for awhile, then it started to get hard. We were living in a tiny 1 bedroom apartment with no privacy, nowhere to be alone and it was just too much of each other and it really brought out our differences. So I moved out and back home with my parents, thinking that was it, it was over.
We still talked and neither of us were dating other people. We decided to start going out on dates again and doing things together that we both liked instead of being apart. Things got better so I moved back before Christmas. We then started looking for a home together and found one.
The following January we were laying in bed reading and I had a pain in my chest. I felt around and found a lump the size of a large walnut. I instantly knew something was very wrong and started crying, breast cancer runs in my family and I was only 25. My cousin died at age 26 from cancer, this couldn't be happening to me. Matt held me and told me that no matter what he loved me and would always be there for me. I said even if I lose all my hair? He said he'd shave his head too. At that point I knew I had found the man that would stand beside me no matter what. After tons of appointments and biopsy's the tests thought it was benign but they had to take it out to be sure because of it's size and shape. I had surgery and Matt was there to nurse me back to health, change my bandages and just be there for me. The tests came back 100% benign and we finally breathed easy again.
That August we went hiking to our favorite waterfall, hidden from the general public, we had found it on our third date. We hiked down with our tripod and camera to take some photos. After many shots Matt told me to stand still so he could get one of us together, there in front of the most beautiful spot he asked me to be his wife, through sickness and health, whatever lies ahead. We are now planning our dream fall wedding for October 16, 2010. This Love Story necklace is perfect for me to wear because it symbolizes the twists and turns that we've had in our relationship, but no matter what it's one piece that will stay together forever, like us.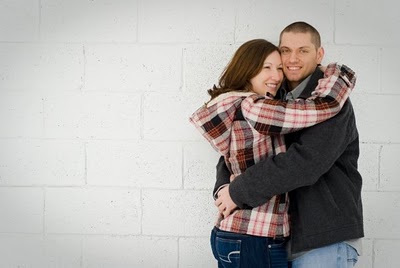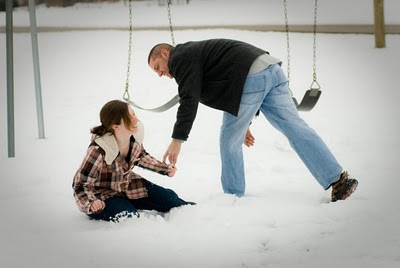 What I loved about Amanda's story was that the two of them have been through so much as a couple. Relationships, although amazing are hard and I think it takes great compassion and great strength for a couple to fall apart and then come back together. A little over a month ago one of my closest friends was diagnosed with a brain tumor, thankfully it also turned out to be benign.
Life is scary and short, and it is the people and the love that we choose to have in our life that make it incredible and a little less scary. I would say that Amanda and Matt are a pretty inspiring and courageous couple. I am honoured to be making Amanda a Love Story Necklace to wear on her wedding day.
I wanted to share with you another inspiring and courageous woman and artist, Kerri Smith - I am loving her blog these days