Before Christmas I went to one of my favourite book stores and bought myself a few presents. I have never done that before - buy myself Christmas gifts. It felt fantastic and I am so thankful that I did it.
One of the gifts I gave myself was a new journal. It is made by one of my favourite artists Sabrina Ward Harrison. It is called The True and the Questions. It is a beautiful combination of her drawings, collage, and writing. It gives insightful and soulful prompts so I am not left staring at a blank white page wondering which neurotic thought I should start writing about. The pages are thick, colourful and silky.
I have been writing and sketching, adding my own thoughts and dreams to hers, taking her prompts and letting my own messy life flow into it.
Here are some highlights.....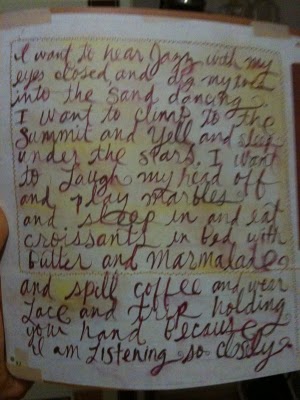 I love the last line...."and trip holding your hand because I am listening so closely".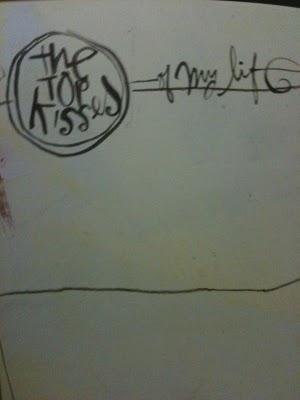 I'm not sharing my top kisses with my darling readers....but I am looking forward to flipping back through the kisses of my life so far, and filling this page in.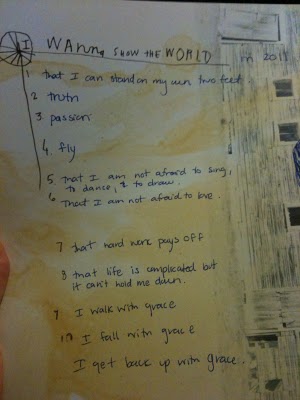 I changed this one to "I Want to Show The World...in 2011", I thought it was fitting since we are nearing the new year.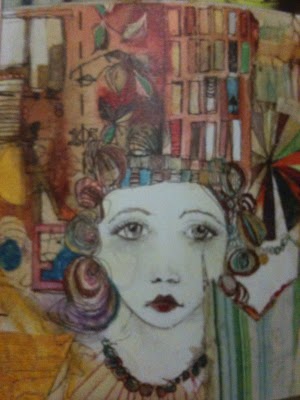 And one of her many beautiful drawings.
Sabrina has many other beautiful art books that she has published. You can find them all on her website www.sabrinawardharrison.com
2011......Lets do it. xoxo