What makes you ecstatic about being an artist? This question was given to me in a course I'm taking from Alyson B Stanfield In one of the lessons the other day she asked us what makes us ecstatic about being an artist. What moment in your life have you seen something or done something that made you stop in your tracks and feel completely connected to being an artist?
I am grateful that I recently got to experience some of those moments while I was doing my artist's residency in Holland. We spent a few days exploring Amsterdam. We went to the Van Gogh gallery. After waiting in line with the hordes of tourists we went inside and I led my beau downstairs to check out the "Dreams of Nature, Symbolism from Van Gogh to Kandinsky" exhibiton. I knew that somewhere in this exhibition I would see for the very first time a Wassily Kandinsky painting I whizzed through the exhibit......and got to the end.......and there it was.....my first up close and personal view of a Wassily Kandinsky.................I stopped......I stared.......I felt........I felt elated.......I felt my soul stir..........I felt a connection to the past, I felt my body firmly rooted in the present......
I felt ecstatic to be adding art to our world.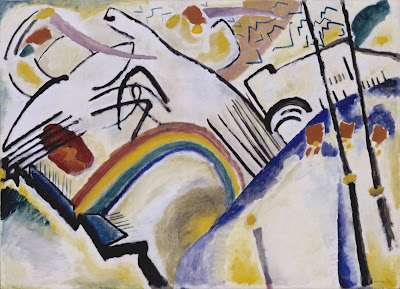 "Cossacks" Wassily Kandinsky